ASCE Earth and Space Conference
Organized by Missouri University
of Science and Technology

Phone: (573) 341-4200
Fax: (573) 341-4992
Email: earthspaceconf@mst.edu
3D-Printed Habitat Challenge Team Displays
Tuesday, April 12, 2016
Conference Opening Reception
6:00 p.m. - 8:00 p.m. | Grand B
---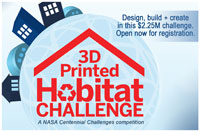 Team: A.R.C.H.
Design: Donut House Mk. I
Awarded: Best in Class: Best Technical Proposal
This entry used the design and construction methodology of basalt fiber clay matrix structures for in-situ habitat construction on Mars and other celestial bodies.
Team: GAMMA
Awarded: Second Place and People's Choice Award
A semi-autonomous multi-robot regolith additive manufacturing (RAM) system is used to create a protective in situ shield around a modular inflatable hab.
Team: NBVS
Design: Regolith Geodesic Dome Habitat
The mission would consist of three phases, the first two of which would be unmanned. First, a surveying expedition, then the construction phase, and lastly the manned supply launch.
Team: Neiro
Design: Solar Crafting
Solar Crafting is a 3D printing technique developed to create off-world structures from indigenous materials.
Team: N3ST
Design: N3ST
The N3ST (Nested 3D-Printed Settlement Technology), is a safe-to-fail design based on the principles of redundancy, simplicity and incrementalism.
Team: RedWorks
Design: RedWorks Habitat
The RedWorks Habitat has been adapted from construction principles of ancient cultures, such as pit houses and pueblos as well as natural constructs like the shell of the nautilus. The internal structure is divided into levels that revolve around a central support shaft like a spiral staircase.
Team: Rustem Baishev
One day Mars will become as an ordinary destination as our own Earth's continents and cities. In such case expandability is the main consideration, for which the most suitable technology should be invented to dictate the design. Given the distance to Mars and roughness of its terrain, the translation of a 3d model from virtual into physical space is a task of an extreme complexity for any positioning and printing method. Therefore, those methods should be as analog as possible
Team: SEArch/Clouds Architecture Office
Design: ICE HOUSE
Awarded: First Place
This innovative structure draws on the abundance of water and persistently low temperatures in Mars' northern latitudes to create a multi-layered pressurized radiation shell of ice that encloses a lander habitat and gardens within.

Team: Team Staye
This entry is based around a silo-shaped habitation, 3D-printed in cement. The concept is based on the strategy of boring into the ice of the Equatorial Frozen Sea for initiating a Mars settlement.